Veowork VC800 4K AI Video Soundbar with Face Framing and Voice Tracking
OVERVIEW
VC800 adopts a compact integrated design, which integrates powerful audio and video functions.
It employs a variety of advanced AI intelligent algorithms, integrated face detection, sound source localization, voice tracking and other AI intelligent framing technology, can automatically adjust thesize of the picture according to the number of participants and location changes to achieve the best framing. The camera detects the speaker's position in real time, and the locked object presents a close-up, without manually adjusting the camera operation, to provide a simpler, focused meeting experience. USB plug and play, easy to connect to personal devices for video conference at any time. VC800 is the ideal choice for small and medium-sized conference rooms.
HIGHTLIGHTS
4K ePTZ Camera | 120° Large Wide-angle Lens | 1/2.8" Sensor CMOS | 5x Digital Zoom | Built-In 6 Digital Microphones Array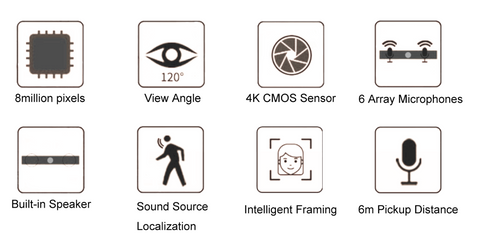 8.0MP Camera for 4K Ultra HD Images



Veowork VC800 4K Video Soundbar is equipped with a 4K ePTZ camera that delivers high-quality video. This camera is capable of zooming in and out, panning, and tilting to capture every detail of the meeting. It offers a resolution of 3840x2160 at 30 frames per second, providing clear and sharp images.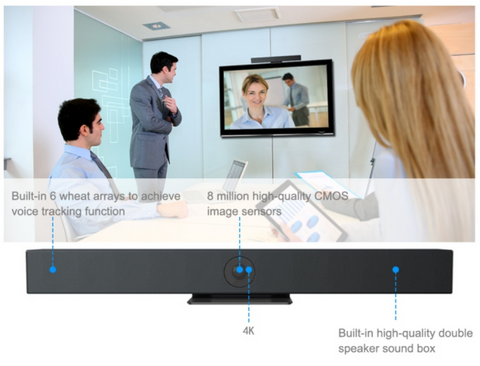 Super Wide Viewing Angle without Distortion
The soundbar also has a 120° super wide-angle lens that ensures that everyone in the room is visible during the conference. With such a broad field of view, there is no need to squeeze together to fit into the camera's frame.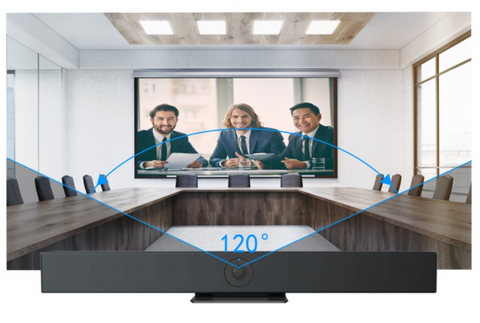 Voice Tracking | Built-in Speaker
Veowork VC800 4K Video Soundbar has a smart feature that can locate and track the speaker's voice. The soundbar's built-in speakers are designed to eliminate ambient noise, ensuring clear audio. Moreover, the soundbar is equipped with an intelligent face-tracking feature that can detect the speaker's face and automatically adjust the camera to ensure that they are always in the center of the screen.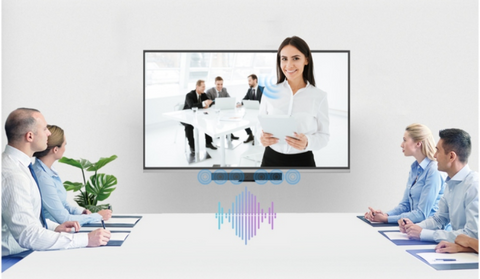 Intelligent Framing
Built-in face detection algorithm, automatically detect participants, and provide ideal framing.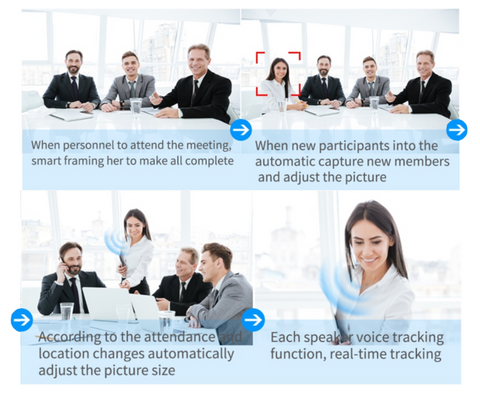 Efficient and Intelligent DSP
With the DSP, the background noise will be effectively canceled and optimized for ultra-clear conversation in the meetings.
Compatibility with All Leading Communication Apps
Easy connections with USB cables for starting online conferences on Zoom, Microsoft Teams, Webex, and Google Hangout, etc.
SPECIFICATIONS

 
HEIGHT x WIDTH x DEPTH
3.05" x 23.54" x 3.39" / 77.5 mm x 598 mm x 86 mm
SENSOR
1/2.8" COMS 
EFFECTIVE PIXELS
8.0MP 
ePTZ
4K ePTZ Support 5x digital zoom 
FOCUS
Fixed Focus 
FOV
120° 
PICKUP DISTANCE
6M Radius 
SOFTWARE APPLICATION
Windows XP and above, IOS, Linux 
SPEAKER
Power speaker x 2 
MIC MICROPHONE
Microphone x 6 
INTERFACE
USB 3.0 type B, LINE-IN (support external 3.5mm 
 pickup microphone) 
Share